one.
And then there was 1---Now Gillian Grace is the only munchkin on the block; school started today! In 3 short years, I'll be that nervous momma walking her sweet girl to school for the first day of prekindergarten. And yes, we are
those
parents and have had our daughter on the admissions' wait list since she was just days old.
I took GG to visit her future school and my old workplace. I visited with my teacher friends and Gillian Grace found a familiar face, our neighbor, to keep her company.
two.
No, Tebow is not auditioning for the role of Friar Tuck in the newest Disney on Turf production of Robin Hood, but sadly is just sporting his newest do, courtesy of the Denver Broncos veterans. I heart Timmy, I really do! But, I just can't get on board with this new look. Thank goodness in a few weeks he'll be as purty as ever!
three.
Gillian Grace is cutting 4 teeth! Oh how I wish all 20 of her pearly whites would make their debut at the same time. This every other week teething thing is wearing us thin---
four.
I'm a little late in the game, but I've recently become addicted to Etsy. I've got a few items hanging out in my cart just waiting to be purchased. Among the items, are a few handpainted signs from Mama's Messages. My new bloggy friend Anna has recently opened a shop. Be sure to check out this
week's awesome giveaway
to win one of Anna's signs for yourself.
five.
And whatdoyaknow? It must me Anna's day! She was the correct guesser
(um, if that's even word)
for Friday's impromptu giveaway. Congratulations, girl! Hope Baby W enjoys his pool as much as Gillian Grace has!
We call this GG's stinky face! She scrunches up her nose, shows her teeth, and snorts! It's a guaranteed riot every time she does it; she just looks so silly!
six.
Thank you for all of your kind words and prayers for my grandmother. After a weekend in the hospital, doctors have been able to rule out any cardiac complications and instead have determined that it is her gallbladder. She is scheduled for surgery this morning, so please keep her in your thoughts.
seven
. It wasn't me! Finally I'm not the only one around her in need of visiting the Wizard for a brain---Saturday evening, Bret sat my dinner leftovers on top of the tonneau cover over the bed of his truck while he got GG situated in her carseat. Said leftovers were discovered about 15 minutes and 5 miles later when we stopped for ice cream, sitting precariously near the edge. Now while I know that we're not the first goofs to drive with a forgotten something atop our car, we should certainly earn high marks for making it clear across town without a spill!
eight
. I'm feeling crafty! Since receiving so many compliments on the wreath I made for Gillybean's birthday party, I've been busy making a few more. I've had several requests for Fall, football, and Halloween wreaths, so it looks like I'll be busy!
(Want a custom wreath of your own? Email me and we'll chat!)
I took a wreath I'd made with me up to my old school this past week. I was so delighted when I heard it was hanging on the office door for Parent Preview.





Of course

I had to make a Florida Gator wreath for the upcoming football season! My favorite part of all my wreaths has to be my handmade bows! I may not know how to sew, but I can sure make a decent bow

!


I painted helmets and footballs to accent the wreath! Go Gators!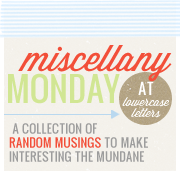 Have a great Monday, y'all!